84S Sanitary Vortex Flowmeter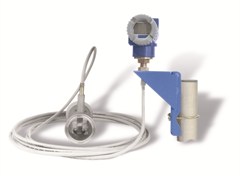 The Foxboro Model 84S is part of a family of intelligent, high performance sanitary vortex flowmeters designed for food and pharmaceutical sanitary liquid service, and CIP systems. They transmit a 4 to 20 mA, digital, and pulse output signal, as applicable, using HART® communication protocol for remote configuration, calibration, and monitoring. An on-board LCD indicator/configurator is also offered for local configuration.
View our Flow Sizing Tool to help select and size your flowmeter
Key
Liquid, gas, or steam applications.
Complies with 3-A sanitary standards.
Best in class accuracy:
– ±0.5% of reading in liquids
– ±1.0% of reading in gas and steam.
Widest rangeability in class.
ActiveTuning™ algorithm:
– Real time Reynolds number (RD) low flow correction down to RD of 5000.
– Compensation for piping effects.
– Adaptive filtering and signal conditioning.
– Tunable for specific operating conditions.
| Document title | Document type | Document Date | Download |
| --- | --- | --- | --- |
| | Data Bulletin | 01/11/2006 | 476.4 KB |
| | | | |
| --- | --- | --- | --- |
| | Technical leaflet | 01/04/2010 | 362.9 KB |
| | Specification guide | 01/04/2013 | 1.9 MB |