870ITEC Electrodeless Conductivity Transmitter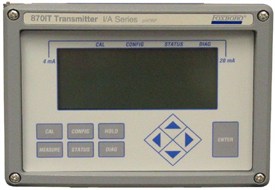 The Foxboro 870ITEC is a micro-processor bases, 2-wire intelligent transmitter provides measurement indication, and a choice of analog or digital outputs for recording or control of electrodeless conductivity. A human interface guides the user through intuitive, menu-driven configuration, calibration, status, and troubleshooting procedures. On-line diagnostics for both transmitter and sensor are also provided to indicate real-time measurement faults.
Key Benefits
4 to 20 mA or Digital Output, fully configurable.

Digital Output Compatible with I/A Series® System.

Human Interface for Local Display, Status, Configuration, Calibration, and Fault Isolation.

Continuous Transmitter/Sensor Diagnostics.

NEMA 4X and IEC IP65 Housing. Mounts to Panel, Surface, or DN 50 or 2-inch Pipe.

Intrinsically Safe Construction.

RFI and EMI Protection.

Digital Output for Process Measurement and Process Temperature.