IDP25 Intelligent Differential Pressure Transmitter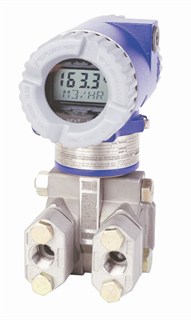 The Foxboro® I/A Series® Model IDP25 is an intelligent, multirange, 2-wire transmitter that provides precise, reliable, measurement of differential pressure providing the measurement range and performance of "two transmitters in one." It transmit a 4 to 20 mA or digital output signal, as applicable, using HART®, or FOUNDATION® Fieldbus communication protocol for remote configuration, calibration and monitoring.
Long-term stability with drift of 0.015% URL per year stability over a ten year period.
Remote seals are required for operation and mounting. See Remote Seals for Pressure Transmitters
Key Benefits
Simple, elegant sensor packaging uses very few parts to achieve exceptionally high reliability
Liquid Crystal Display (LCD) digital indicator with on-board pushbutton configuration and calibration.
NEMA 4X and IEC IP66 durable epoxy-coated aluminum, or 316 ss housings.
Co-Ni-Cr, 316L ss, and Nickel alloy (equivalent to Hastelloy®(1)) sensor materials for all transmitters.
Can be provided with numerous configurations of direct connect or remote mount seals.
Integral process connections for sanitary, and pulp/paper installations.
Rugged & Dependable: Field-proven silicon strain gauge technology and corrosion-resistant epoxy finish
Superior Performance: Wide measurement spans from 0.12 to 250 kPa (0.5 to 1000 in H2O) using only two sensors, each having 400:1 turndown capability.
Best in the industry – 5 year warranty; 17 year optional.
| Document title | Document type | Document Date | Download |
| --- | --- | --- | --- |
| | Specification guide | 01/11/2015 | 1.1 MB |