IGP60 Intelligent Gauge Pressure Transmitter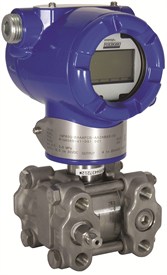 For demanding gauge pressure measurement applications that require a rugged, robust and reliable transmitter, the Invensys Foxboro® I/A Series® Pressure Transmitters provide the best solution.
The Foxboro brand I/A Series® Gauge Pressure IGP60G Transmitter is a microprocessor-based smart transmitter that provides precise, reliable, measurement of gauge pressure and features high performance and excellent stability. Capable of measuring gas, liquid, vapor, and liquid levels, it transmits 4 to 20mA DC analog and digital signals according to the measured gauge pressure. It can also execute two-way communications using HART protocol, thus facilitating self-diagnosis, range resetting, and automatic zero adjustment.
Key Benefits
Simple, elegant sensor packaging uses very few parts to achieve exceptionally high reliability
Liquid Crystal Display (LCD) digital indicator with on-board pushbutton configuration and calibration.
Unique characterization and composite semiconductor sensors realize high accuracy up to 0.04% F.S.
P

roven Sensor technology enables Long-term stability up to 0.1% of URL per 10-year period. 

A wide measuring range is available from a single model. This feature is highly effective in taking measurement over a wide range and reducing the need for inventory. 

Measuring Span: 2.5 to 500 psi

Rangeability 200 to 1 (17.5 to 3500kPa)

Two-way communication using HART protocol facilitates self-diagnosis, range resetting, automatic zero adjustment, and other operations.

HART communication protocol

SIL2 rated

Complies with 89/336/EEC, 92/31/EEC, and 93/68/EEC Electromagnetic Compatibility (EMC) Directive.

Complies with FM Explosionproof and Dust Approvals, FM Intrinsically Safe Approval, and FM Nonincendive Approval.

Complies with ATEX Flameproof and Dust, ATEX Intrinsic safety and Dust, and ATEX Type n and Dust Certifications

Best in the industry – 5 year warranty
| Document title | Document type | Document Date | Download |
| --- | --- | --- | --- |
| | Instruction sheet | 01/02/2011 | 542.5 KB |
| | Instruction sheet | 01/02/2011 | 1.9 MB |