Model MAG2 Intelligent Magnetic Flowmeter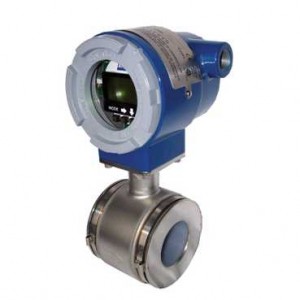 The Foxboro® brand MAG2 Series Flowmeters are high performance, intelligent Magnetic Flowmeters based on field proven two-wire, loop powered technology. They offer the stable and accurate measurement of a traditional magnetic flowmeter with low power consumption, resulting in a lower overall cost of ownership. The flowmeters are provided in an integrally mounted transmitter configuration, or with a remote transmitter and flowtube with an interconnecting cable.
The available versions are:
Model MAG2IC Intelligent Magnetic Flowmeter with Integrally Mounted Transmitter,
Model MAG2RT Remote Mounted Intelligent Transmitter, and Model MAG2RS Remote Mounted Flowtube
FEATURES
Field proven, loop powered, 2-wire operation.
High accuracy to ±0.5% of rate.
Minimum measurable fluid conductivity down to 10 S/cm.
Suitable for use in numerous process fluid measurement industries.
Electrode status diagnostic (determines empty pipe detection, or scaling on electrode).
Adjustable low flow cutoff.
4 to 20 mA dc Analog Output with HART Communications.
FlowExpertPro™ sizing program; see below.
Flanged body flowtubes are offered in 2.5 to 200 mm (0.1 to 8 in) line sizes when integrally mounted, and in 10 to 200 mm (1 to 4 in) line sizes when remote mounted.
Wafer body flowtubes are offered in 25 to 100 mm (1 to 4 in) line sizes when either integrally or remote mounted.
Flowtubes used with ANSI Class 150 or 300 flanges, or DN PN10, PN16, or PN25 flanges.
Standard mounting brackets and hardware for surface or pipe mounting of the remote transmitter.
Click here for a listing of the electrical conductivity of various process liquids.
Click here for an aid in selecting the process-wetted materials (for example, flowtube lining, electrode material, and so forth.) recommended for a particular process, whether the process be corrosive, abrasive, or sanitary.
| Document title | Document type | Document Date | Download |
| --- | --- | --- | --- |
| | Data Bulletin | 01/06/2010 | 354.9 KB |
| | Technical leaflet | 01/12/2008 | 428.5 KB |
| | Specification guide | 01/06/2010 | 1.3 MB |
| | Technical leaflet | 01/02/2010 | 502.9 KB |