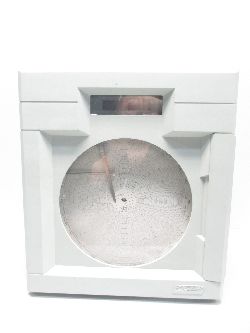 740R Series Digital, Circular Chart Recorders (DISCONTINUADO)
The 740R Series of Microprocessor-Based Recorders provide continuous trending for up to four inputs on a 12-inch round chart. The recorder features an integral 40-character digital display that sequentially indicates the instantaneous value of each input. At the operator's discretion, the unit may be configured to display selected functions and inputs, or continuously display one function or input. A variety of isolated analog and discrete input types are accepted. A multi-function, internally mounted keypad is provided for configuration and operational control of the recorder. Options are also offered to enhance recorder capability.
FEATURES
Display accuracy of 0.1% of input span, and recording accuracy of 0.25% of input span
Accepts a wide range of input signals including Thermocouple (TC), Resistance Temperature Detector (RTD), mA dc, mV dc or V dc.
Digital calibration of input signal conditioning and pen positioning.
Up to four pens for trending. any trend pen may also be used for event oriented applications.
Assignable absolute, rate of change, or deadpanned alarms; four alarms/channel – up to six channels.
Brilliant, 2-Line (20 characters per line), 5 x 7, dot matrix electronic display with a neutral density filter.
Internally mounted keypad; menu-driven prompts; configuration parameters are password protected; external programming device not required.
Security time-coded chart provides evidence that chart position has (or has not) been changed from the installed position.
Configuration and calibration information stored in nonvolatile, nonbattery-backed memory.
Selectable power mains operation for worldwide voltages and frequency.
NEMA 4 enclosure is standard with panel and surface mounted recorders; and NEMA 4X is standard with pipe mounted recorders.
Logic equation actuated events to control various recorder functions.
Optional tamper-evident design conforms to dairy industry FDA regulations. Optional door lock prevents unauthorized access to instrument.
Other options, including calculated variables; ramp generator; RS-485 serial communications; isolated field power for up to four remote-mounted 2-wire transmitters; polycarbonate user interface and chart windows; up to four totalizers with remote totalizer outputs; 2, 4, 6, or 8 relay outputs; 1, 2, 3, or 4 to 20 mA retransmission outputs; 8 or 16 contact inputs; NEMA 4X enclosure and NEMA 4X pipe mounting kit.