84C Flanged Body Intelligent Vortex Flowmeters with Temperature Compensation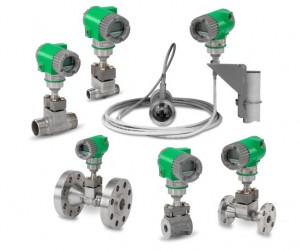 Vortex technology for flow measurement offers advantages such as easy installation without impulse lines; no moving parts to maintain or repair; decreased leak potential; and a wide flow turndown range. Ideal for remote locations, vortex meters also offer very low power consumption.
Vortex flow meters can measure liquids, gases, and steam, and can withstand high process pressures and temperatures. This makes vortex technology ideal for measuring natural gas, low conductivity boiler cooling water, and other applications in various power generating systems — both traditional and newer, cleaner alternatives.
Model 84C flanged, wafer, threaded (NPT), and sanitary vortex flowmeters are robust and reliable additions to the Schneider Electric family of intelligent, high performing vortex flowmeters. The flowmeters are available with 4 to 20 mA, HART 7, Modbus, and pulse outputs. All flowmeters, except Sanitary, can be ordered with an optional integrated platinum RTD temperature sensor, which allows the flowmeters to support multiple measurements as well as temperature-compensated mass flow measurements for steam and user-defined liquids.
The 84C sets the example for industry standards whether the application requires accuracy for totalizing and batching; utility metering of fluids in the process industries; fuel, air, steam, or gas metering for the measurement of energy in any high-use application; or stability and repeatability for process control.
The low-power (Electronics Version -L) version of the flowmeter is intended for use with battery power that is recharged with any technology, such as a solar array or alternator. The supply current is fixed at a constant 10 mA and remains in operation down to a minimum terminal voltage of 10 V dc.
These flowmeters are also offered with male NPT (threaded) end connections, which allows you to easily replace existing turbine, magnetic flow, and orifice meters.
The 84CS Sanitary flowmeters are designed for food and pharmaceutical sanitary liquid service, and CIP systems.
Model 84C flowmeters can be configured locally or remotely. If you order the flowmeter with an optional LCD display, pushbuttons on the display allow you to easily configure the flowmeter locally. Alternatively, you can use a HART or Modbus communicator or a PC-based configurator.
View our Flow Sizing Tool to help select and size your flowmeter
Key Features
Reliable volumetric rate measurement of liquids, gas, and steam
Time In Service Meter
Configuration "personalities" which streamline the menus, features, and engineering units for upstream oil and gas and steam applications
Available with flanged, wafer, threaded NPT, or sanitary body designs:

DN15 to DN300 (3/4 to 12 inch) flanged body
DN15 to DN200 (3/4 to 8 inch) wafer body
DN25 to DN50 (1 to 2 inch) NPT body
DN50 to DN80 (2 to 3 inch) Sanitary body

High pressure up to Class 1500 and PN160
DirectSense™ technology backed by a lifetime sensor warranty
Wide rangeability
ActiveTuning™ algorithms:

Real time Reynolds number (RD) low flow correction down to RD of 5000
Compensation for piping effects
Adaptive filtering and signal conditioning

Pulse output capability in raw, frequency, or pulse (total) modes
CE marked; complies with EMC European Union and PED Directives, and NAMUR NE 21 interference immunity requirement
CRN Registered
| Document title | Document type | Document Date | Download |
| --- | --- | --- | --- |
| | | | |
| | Specification guide | 01/06/2015 | 1 MB |