871PH Series pH and ORP Sensors and Accessories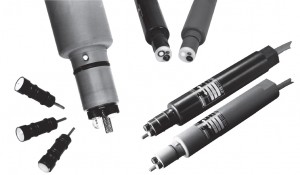 The Foxboro® brand 871PH Series are rebuildable, precision, electrochemical sensors, and when used in conjunction with 871PH accessories, are suitable for pH and ORP measurement applications.
The 871PH Series sensors are used with Foxboro 876PH Intelligent Transmitters, 875PH Intelligent Analyzers,..
The Model 871PH Sensor includes a robust and continuously reusable sensor body with a field replaceable measuring electrode, and field replaceable reference junction and electrolyte. Numerous options and accessories are offered to enhance the performance of these transmitters.
FEATURE HIGHLIGHTS
Unique pH glass – exceptionally stable, remains fast and accurate after severe temperature cycling (121°C/250°F).
Proven high stability, high accuracy, and long life.
Easy-to-use body design simplifies installation, calibration, maintenance, and replacement.
More reliable measurements permit tighter process control.
Longer life plus easy mounting reduces maintenance costs.