IAP50S Intelligent Absolute Pressure Transmitter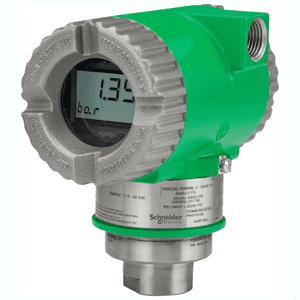 Premium Performance Transmitters
Transmitters with high accuracy are required for the most demanding applications, and with an accuracy of up to ±0.025% of reading, the IAP50S, IGP50S, and IDP50S pressure transmitters fit the bill. These transmitters offer embedded FoxCal™technology and multiplepoints of calibration, which allow you to benefit from wide rangeability and one of the best reference accuracy turndowns on the market.These transmitters also offer more exotic materials to accommodate severe environments, and HART transmitters are SIL 2 certified.
These pressure transmitters provide absolute pressure (AP), gauge pressure (GP),and differential pressure (DP) measurement.
Absolute pressure transmitters measure pressure relative to vacuum. Gauge pressure transmitters measure pressure relative to ambient air pressure. Bothabsolute and gauge transmitters are used in a wide variety of oil, gas, water andindustrial applications.
Differential pressure transmitters measure the difference betweentwopressuresapplied to opposite sides of the sensor. The output signal is proportional to eitherthe differential pressure or its square root

Differential pressure transmitters are often used for measuring fluid flow ratesacross a primary device such as an orifice plate, but can also be used forother types of differential pressure measurements such as liquid level,interface level, or density measurements.
Transmitters can be connected in series to instruments such as recorders, controllers,and indicators
Key Features
The Premium Performance pressure transmitters offer the following features:
Absolute, Gauge, and Differential Pressure transmitters
HART digital outputs, FOUNDATION Fieldbus digital outputs, 4 to 20 mA outputs
TüV SIL 2 certification for HART transmitters
5-year proof test interval for pressure transmitters installed in SIL 2 Safety loops
Accuracy up to ±0.025% of reading
Response time of 100 ms for AP/GP transmitters and 125 ms for DP transmitters
Innovative and dynamic FoxCal™ technology allows the transmitter to storemultiple factory-preset calibration ranges up to 10:1 turndown, while maintainingpublished accuracy without the need for field calibration
Time in Service meter features cumulative power-up time and time powered sincelast user reset for HART and FOUNDATION Fieldbus transmitters
High Turndown Capabilities2(up to 400:1)
Ability to locally configure the device with pushbuttons on the optional localdisplay
Ability to remotely communicate with and configure the device using the devicedescriptor (DD), Device Type Manager (DTM), or the Field Device Integration(FDI) package
Optional External Zero Adjustment
Field-proven piezoresistive silicon microsensors help ensure excellentmeasurement performance
Simple, elegant sensor design with very few parts achieves exceptional reliability
Durable aluminum or 316 ss housing options are available; both meet NEMAType 4X and IEC IP66/67 ratings
Differential pressure (DP) transmitters are available with traditional and lowprofile or Coplanar™structures
Depending on transmitter structure, sensor diaphragm materials include 316L ss,nickel alloy3, Co-Ni-Cr, Monel™, or Tantalum™
½ NPT male, ½ NPT female, or M20 male process connections
Numerous mounting bracket set options
Process venting and bleeding options
Special degreasing and cleaning options
Low temperature options
Custody transfer lock and seal options
Many configurations of direct connect or capillary connected seals
Dual Seal certified by CSA to meet ANSI/ISA 12.27.01-2003 requirements
Complies with electromagnetic compatibility requirements of European EMCDirective 2014/30/EU by conforming to following EN and IEC Standard: EN61326-1:2013
NACE MR0175 and MR0103 compliant for all process wetted parts; optionalNACE approved bolt material available
Optional certification options allow transmitters to meet numerous requirementsfor hazardous and non-hazardous locations
CE marked; meets the requirements of applicable EMC, ATEX, RoHS, and PEDEuropean Union Directives
Multi-marking protection concepts available for ATEX, CSA, FM, IECEx, andINMETRO
Standard 5-year warranty (optional 17-year warranty)
| Document title | Document type | Document Date | Download |
| --- | --- | --- | --- |
| | Specification guide | 03/01/2019 | |
| FD-DS-P-002 | Data Bulletin | 15/10/2018 | Download |