SRI986 Posicionador electroneumático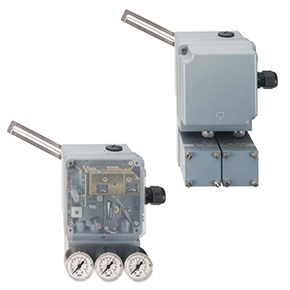 Más de 1 millón de aplicaciones en todo el mundo
ANALOG (4 a 20 mA):
Ajuste independiente de cero y span
Amplificación ajustable y amortiguación
Split-Alcance de hasta 3 veces
DATOS TÉCNICOS:
Analógico (0/4-20 mA): Carga 200 Ohm (4 VDC a 20 mA)
Analógica (0-10 V CC): 4-wire-versión, la operación por U / I-converter (bajo petición)
CARACTERÍSTICAS COMUNES:
Carrera 8-100 mm (0.3 a 4 pulgadas), rango extendido de golpe bajo petición
Rango de ángulo de hasta 120 °
Curvas características de levas
La presión del suministro de aire de hasta 6 bar (90 psig).
Bajo consumo de aire
Efecto de baja vibración en
Simple o de doble efecto
Montaje en actuadores lineales según la norma IEC 534, parte 6 (NAMUR)
Montaje en actuadores de giro según VDI / VDE 3845
Clase de protección IP 54, IP 65 (bajo petición)
Protección contra explosiones:
• II 2 G EEx ia IIC acc. to ATEX
• "Seguridad intrínseca" acc. de FM y CSA
Certificado N º 90/20226 (E2) "Lloyd Register of Shipping" para su uso en buques
SISTEMA MODULAR DE ACCESORIOS:
Construido en finales de carrera inductivos independientes de 2 hilos, 3 hilos o micro-tecnología (opcional)
Retroalimentación de posición independiente de 4-20 mA (opcional)
Relays elevadores con una capacidad de aire de hasta 110 000 ln / h (3,884 scfh)
Colectores de conexión y medidores
El posicionador electroneumático SRI986 con entrada analógica 0/4-20 mA (u opcional con 0-10 VDC) está diseñado para controlar los actuadores de válvulas neumáticas y está disponible en la versión EEx ia / seguridad intrínseca.
La adaptación y la configuración de cero y el intervalo pueden ser fácilmente alcanzados por el tornillo de cabeza moleteada.
Los Accesorios que se requieren para el funcionamiento y el montaje – descarga Kits de Montaje.
| | | | | |
| --- | --- | --- | --- | --- |
| | Technical leaflet | 05/2016 | | |