876PH Intelligent Transmitter for pH, ORP, and ISE Measurement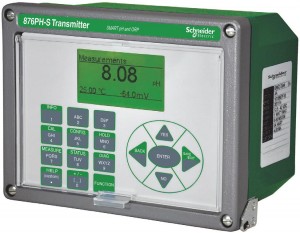 The Schneider Electric® Model 876PH is a 2-wire loop powered intelligent transmitter that, when used with appropriate electrochemical sensors, provides measurement, local display, and transmission of pH, ORP (Oxidation-Reduction Potential), or ISE (Ion Selective Electrode) concentration. The transmitter outputs a HART digital signal and a 4 to 20 mA analog output. Versions are available for use with both analog and Smart (digital) pH sensors. Smart version (876PH-S) has backlit LCD indicator.
FEATURES
Single measurement (pH, ORP, or ISE) or simultaneous pH and ORP.
4 to 20 mA output with HART digital signal.
Calibration and configuration with local keypad/display interface, HART hand-held
communicator, or PC-based Field Device Tool (FDT) certified DTM (Device Type Manager).
Analog version (876PH-T) supports Schneider Electric and many non-Schneider Electric analog pH, ORP, and ISE sensors.
Smart version (876PH-S) supports Schneider Electric Smart pH sensors (2), has a real-time clock (RTC), and a pH sensor service prediction feature.
Smart transmitter (876PH-S) supports 7 languages: English, French, Spanish, Portuguese, Italian, German, and Russian.
In addition to the 7 languages in the transmitter, the 876PH-S DTM supports Chinese and Japanese.
LCD indicator can display either one, two, or three measurement variables.
Galvanically isolated output.
High impedance inputs for glass and reference electrodes.
Approved/Certified as intrinsically safe device for use in hazardous area locations.
Continuous transmitter/sensor diagnostics.
Temperature compensation/calibration curves.
Two levels of passcode protection provided; configurable.
Complies with applicable NAMUR standards, and European EMC Directive 2014/30/EU.
Enclosure meets IP66 and NEMA 4X ratings.
| Document title | Document type | Document Date | Download |
| --- | --- | --- | --- |
| | Specification Sheet | 01/11/2015 | |