SGE985 Inductive Limit Switch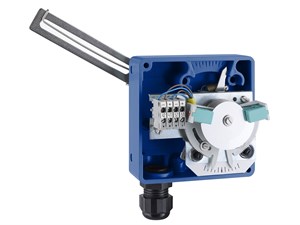 Indication of final stop by 2 inductive limit-switches in 2-wire- (NAMUR) or 3-wire- technology according to DIN 19234
Indication of final stops by 2 micro-switches
COMMON FEATURES:
Variable switching functions
Precise switching points by an adjustable transmission
Robust design; low vibration effect in all directions
Mounting according to DIN IEC 534 part 6 (NAMUR)
Rotation adapter for angles up to 120 °
Mounting on linear actuators according to IEC 534, Part 6 (NAMUR)
Mounting on rotary actuators according to VDI/VDE 3845
Simple adjustment to strokes of 8 to 100 mm (0.3 to 4 in) and, by means of rotary adapter, to angular displacements of up to 120°
Protection class IP 54,  IP 65 (on request)
Explosion protection:
• II 2 G Ex ia IIC acc. to ATEX
• "Intrinsic Safety" acc. to FM and CSA
The Limit switch SGE985 serves as an end position indication for valves / actuators and can be mounted to stroke actuators as well as to rotary actuators.
The unit is available with inductive slot-type- sensors or micro-switches and indicates exceedings or declinings of two adjustable positions.
Los accesorios necesarios para el funcionamiento y el montaje – descarga Kits de Montaje.
Para mas información vaya la solapa Documentacion en la parte superior de esta página
| Document title | Document type | Document Date | | Download |
| --- | --- | --- | --- | --- |
| | Specification guide | 01/07/2015 | | 239.8 KB |