876CR Intelligent Transmitter for Contacting Conductivity and Resistivity Measurements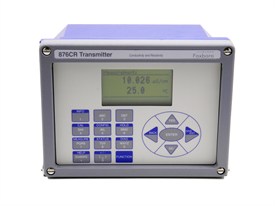 The Foxboro 876CR is a 2-wire loop powered intelligent transmitter
that, when used with appropriate electrochemical sensors, provides measurement, local display, and transmission of contacting conductivity, resistivity or concentration. The transmitter outputs a HART digital signal and a 4 to 20 mA analog output.
Unlike other contacting conductivity and resistivity measurement solutions, Foxboro's offering provides the widest choice of sensing and configuration selections, resulting in the best possible match for your application. The result is long service life, quick and easy application set changes, and savings in both material and labor costs.
Key Benefits
Application Flexibility – Transmitter can be rapidly customized to specific application requirements, including
conductivity, resistivity and concentration. One basic transmitter handles all applications, simplifying inventory.
Save and Restore Configurations – Up to two unique configuration profiles can be saved, facilitating a quick and easy change, saving operator time and cost.
Customize and Employ up to Three Applications –
Transmitter can be preconfigured for up to three different applications, each with its own display format, temperature compensation curve, chemical concentration curve (if applicable), and output configuration. Easy switching of applications saves significant time.
Auto-switching – Applications can be auto-switched using user-programmable switch limits. For example, the transmitter can switch from a wide range conductivity application to a very sensitive one without the need to recalibrate the system for the new range. This results in tremendous time savings for operators, and eliminates common sources of error in critical applications.
| Document title | Document type | Document Date | Download |
| --- | --- | --- | --- |
| | Data Bulletin | 01/12/2011 | 869.9 KB |
| | Technical leaflet | 01/03/2015 | 316 KB |
| | Specification guide | 01/02/2015 | 617. |