876EC Intelligent Transmitter for Electrodeless Conductivity Measurements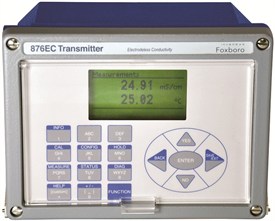 For electrodeless conductivity applications requiring a two-wire, loop powered transmitter, the Invensys Foxboro brand Model 876EC with Foxboro sensors provides the most flexible solution for wide ranging application conditions. Unlike other electrodeless conductivity measurement solutions, the Foxboro offering provides the widest choice of sensing and configuration selections, resulting in the best possible match for your application. The result is long service life, quick and easy application set changes, and savings in both material and labor costs.
The Foxboro 876EC is a 2-wire loop powered intelligent transmitter that, when used with appropriate electrochemical sensors, provides measurement, local display and transmission of electrodeless conductivity or concentration. The transmitter outputs a HART digital signal and a 4 to 20 mA analog output.
Key Benefits
4 to 20 mA output with a HART(1) digital signal.
Temperature prediction(2)
Remote configuration/calibration with the HART communicator or PC-based Configurator.
Complies with applicable NAMUR standards, and EMC directive 2004/108/EC.
Compatible with Foxboro 871EC, 871FT, EP307B, EP307G, and FT10 Series electrodeless conductivity sensors.
Two levels of passcode protection provided.
Wide measurement range.
FDT certified DTM (Device Type Manager).
 Approved/Certified as intrinsically safe device for use in hazardous area locations.
Temperature compensation and concentration curves.
Continuous transmitter/sensor diagnostics.
Fault isolation to transmitter or sensor.
LCD indicator can display either one, two, or three measurement variables.
Local configuration with the keypad on the integral local human interface.
Enclosure meets IP66 and NEMA 4X ratings.
| Document title | Document type | Document Date | Download |
| --- | --- | --- | --- |
| | Data Bulletin | 01/04/2011 | 649.4 KB |
| | Technical leaflet | 01/03/2015 | 316 KB |
| | Specification guide | 01/02/2015 | 708.3 KB |