875PH Intelligent Analyzer for pH, ORP, or ISE Measurement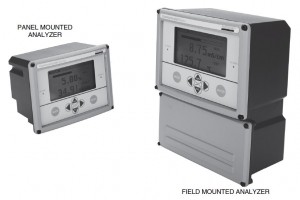 This microprocessor-based, line-powered intelligent analyzer, when used with compatible Schneider Electric DolpHin™ PH10 and ORP10, 871A, 871PH, or EP460 Series pH and ORP Sensors, provides high accuracy measurement of pH, ORP, or Ion Selective. Functions include measurement display, dual analog outputs, and dual relay contacts. A human interface guides the user through intuitive, menu-driven configuration, calibration, status, and troubleshooting procedures.
FEATURES
Easy to use.
Optional HART Communication Protocol.
Auto Buffer Recognition for flawless pH
Quick and informative status.
Dual Alarms and Dual 4 to 20 mA Outputs.
NEMA 4X and IEC IP65 protection for field
mounted analyzer, and for front surface of panel
mounted analyzer.
Single unit for either pH, ORP, or ISE.
Compatible with a wide range of sensors.
History log for up to 100 events.
On-Line sensor and analyzer diagnostics
communicate real-time measurement faults.
Remote auto-service for sensor cleaning and calibration
Secure data and calibrations.
Complies with EMC Directive 89-336-EEC.
| Document title | Document type | Document Date | Download |
| --- | --- | --- | --- |
| | Specification Sheet | 01/11/2015 | |