IMV25 Multivariable Pressure Transmitter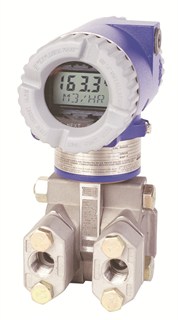 The Foxboro IMV25 multivariable transmitter transmits digital process measurements of pressure, differential pressure, and process temperature, as well as internal sensor and electronics temperatures. It is an ideal solution when a number of individual measurements are to be brought into a system for monitoring, control, or calculation. The IMV25 is available with a choice of HART, Modbus, Foundation Fieldbus, or FoxCom digital communications. A single 4 to 20 mA analog output is also provided.
Key Benefits
Simple, elegant sensor packaging uses very few parts to achieve exceptionally high reliability
Liquid Crystal Display (LCD) digital indicator with on-board pushbutton configuration and calibration.
NEMA 4X and IEC IP66 durable epoxy-coated aluminum, or 316 ss housings.
Co-Ni-Cr, 316L ss, and Nickel alloy (equivalent to Hastelloy®(1)) sensor materials for all transmitters.
Can be provided with numerous configurations of direct connect or remote mount seals.
Integral process connections for sanitary, and pulp/paper installations.
Rugged & Dependable: Field-proven silicon strain gauge technology and corrosion-resistant epoxy finish
Long term stability is excellent as drift is less than ±0.05% of URL per year over a 5-year period for both DP and P measurements
Minimized static pressure effect on DP by using pressure to compensate the DP measurement
Excellent ambient temperature effect compensation due to characterization and microprocessor-based compensation
Best in the industry – 5 year warranty; 17 year optional.
| Document title | Document type | Document Date | Download |
| --- | --- | --- | --- |
| | Specification guide | 01/06/2007 | 1.6 MB |
| | Data Bulletin | 01/03/2005 | 189.4 KB |
| | Specification guide | 01/12/2012 | 1.8 MB |
| | Technical leaflet | 01/09/2004 | 196.3 KB |
| | Technical leaflet | 01/11/2004 | 123.2 KB |
| | Specification guide | 01/10/2004 | 409.2 KB |
| | Specification guide | 01/12/2012 | 1.5 MB |
| | Specification guide | 01/11/2008 | 893.3 KB |