RTT80 Temperature Transmitter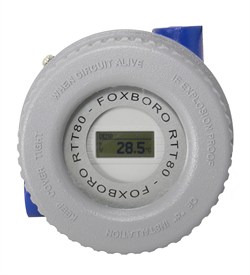 For demanding temperature measurement applications that require a rugged, robust and reliable temperature transmitter, the Invensys Foxboro RTT80 Temperature Transmitter provides the best solution.
The RTT80 is a mid-tier two-wire temperature transmitter available with protocols, dual sensor inputs, universal housing, diagnostics, alarms, RTDs and TCs. The RTT80 stands out due to signal reliability, long-term stability, high precision and advanced diagnostics (important in critical processes). For the highest level of safety, availability and risk reduction.

Key Benefits
Intelligent "Hot Sensor Backup"

Should the primary sensor burn out, the RTT80 is able to intelligently switch to a secondary backup sensor. This prevents unexpected downtime and maintains productivity within the plant.
Sensor Corrosion

The RTT80 is capable of measuring corrosion on the Sensor. Maintenance is able to better predict the quality of their temperature sensors and their life expectancy.
Sensor Drift Detection

This diagnostic enables the Control room to evaluate their temperature measurements over time and make better decisions concerning sensor stability.
Automatic Temperature Range Sensor Change

The RTT80 is capable of switching the primary temperature measurement from sensor 1 to sensor 2 (a different sensor type) which is accurate for a certain temperature range.
Corrosion detection as per NAMUR NE89 The transmitter prevents incorrect measured values from being exported and can issue a warning via the HART protocol when conductor resistance values exceed plausible limits.

 
 Sensor and Thermowell Attachment

The RTT80 can be mounted directly to Foxboro sensors and thermowells to provide reliable and dependable temperature measurement.
Calibration Scheduling

The RTT80 is capable of scheduling a future calibration time enunciation of up to 365 days. One enters a start date and then the number of days till next calibration for a maximum of 365 days. 
| Document title | Document type | Document Date | Download |
| --- | --- | --- | --- |
| | Data Bulletin | 01/10/2012 | 1.1 MB |
| | Technical leaflet | 01/11/2014 | 1.5 MB |
| | Specification guide | 01/11/2014 | 1.6 MB |