IMV30 Multivariable Pressure Transmitter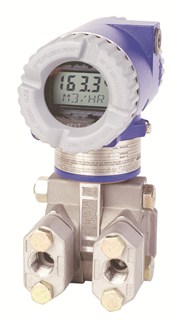 The Foxboro IMV30 Multivariable Transmitter is an intelligent two-wire transmitter that provides precise and reliable measurement of pressure, differential pressure, sensor and electronics temperatures, and process temperature (from an external RTD). It transmits a 4 to 20 mA or digital output signal, as applicable, using HART digital communication for remote configuration, calibration, and monitoring. When used with a primary flow element, it also calculates process density and flow rate, and provides transmission of all the measured and calculated values.
Using measured process pressure and temperature, the IMV30 continuously calculates processfluid density. When used with any of a variety of differential pressure-producing primary flow devices, the transmitter calculates mass or standard volume flow rate. The transmitter provides full dynamic compensation for all variables affecting the flow rate calculation.
Key Benefits
Simple, elegant sensor packaging uses very few parts to achieve exceptionally high reliability
Liquid Crystal Display (LCD) digital indicator with on-board pushbutton configuration and calibration.
Rugged & Dependable: Field-proven silicon strain gauge technology and corrosion-resistant epoxy finish
Calculates mass, volume, or standard volume flow rate based on multiple measurements, using a primary flow element.
Long-term stability with drift less than + 0.05% of URL for 10 years.
Best in the industry – 5 year warranty
| Document title | Document type | Document Date | Download |
| --- | --- | --- | --- |
| | Specification guide | 01/12/2012 | 1.1 MB |
| | Technical leaflet | 01/09/2004 | 196.3 KB |
| | Specification guide | 01/11/2008 | 893.3 KB |
| | Technical leaflet | 01/05/2010 | 602.3 KB |