SRD960 Posicionador universal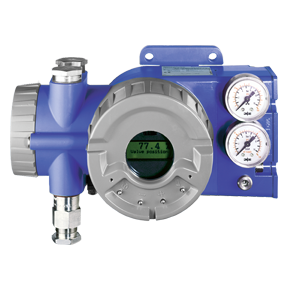 INTELIGENTE:
Inicio automático de auto-calibración
Autodiagnóstico, estado y mensajes de diagnóstico
Diagnósticos avanzados para el mantenimiento predictivo de la válvula
Diagnóstico de primera calidad para las firmas de válvula, fricción On-Line.
Fácil operación local y la configuración a través de cuatro pulsadores externos
Display by means of full-text-graphical-LCD with backlight, in multiple languages
"Con comunicación":
HART
FOUNDATION fieldbus H1
PROFIBUS-PA
Configuración por medio de claves locales, terminal portátil, PC o sistema I / A Series
DATOS TÉCNICOS:
HART: Carga 420 Ohm (8,4 VCC a 20 mA)
Fieldbus: Corriente de base 10,5 mA (según FISCO)
Función bloques: AO, PID, transductores, Recursos, Link Master (backup-LAS)
CARACTERÍSTICAS COMUNES:
Carrera 8-260 mm
(0.3 a 10.2 in)
Rango de ángulo de hasta 95 °
La presión del suministro de aire de hasta 6 bar (90 psig)
Bajo consumo de aire
Bajo efecto de las vibraciones en todas las direcciones
Simple o de doble efecto
Montaje en actuadores lineales directamente
o de acuerdo a la norma IEC 534, parte 6 (NAMUR)
Montaje en actuadores rotativos según VDI / VDE 3845
Clase de protección IP 66, NEMA 4X
Protección contra explosiones:
• II 2 G Ex d IIC / "prueba de fuego" acc. ATEX
• "Explosion Proof" o "seguridad intrínseca" según. de FM y CSA
Construido con finales de carrera inductivos independientes de la tecnología de 2 hilos o 3 hilos (opcional)
Sensores de presión de aire de entrada y de salida (opcional)
Entradas/salidas adicionales (opcional):
-2 Salidas binarias de posición (alarmas)
-Lectura de recorrido de 4 a 20 mA, 1 salida de alarma
-2 Salidas binarias
El SRD960 Posicionador universal está diseñado para controlar los actuadores de válvulas neumáticas y está disponible en la versión Ex d (flameproof) / explosionproof.
El posicionador está disponible con diferentes protocolos de comunicación. Esto incluye versiones con HART-señal, digital con protocolo FoxCom, o la comunicación de bus de campo según PROFIBUS-PA y FOUNDATION Fieldbus H1 basado en IEC 1158-2 acc. al FISCO-Modelo.
La unidad se puede configurar y utilizar mediante FDT / DTM. El SRD también se puede integrar en entornos de sistemas y aplicaciones que soportan el concepto FDT / DTM según la especificación 1.2. Para ello, los DTM necesarios para HART, PROFIBUS y FoxCom están disponibles.
Además, el dispositivo puede ser integrado en cualquier otro sistema de control común, tales como Fisher-Rosemount AMS o-delta-V, Siemens SIMATIC-PDM, Yokogawa, Honeywell, ABB y SMAR.
El funcionamiento y la configuración locales se puede realizar cómodamente y fácilmente un texto completo.
Disponible menú-idiomas hasta el momento: Inglés (estándar); Alemán (estándar)
Libre elección tercer menú en idioma: Francés; Español; Portugués; Polaco; Checo; Italiano; Turco; Sueco; Finlandés; Chino; Ruso; Húngaro; Serbio; Holandés; Rumano; Lituano.
La pantalla LCD-versión del posicionador puede incluir también una interfaz de infrarrojos, que permite una configuración por medio de un PC, sin la creación de una conexión eléctrica a la unidad.
Los accesorios necesarios para el funcionamiento y el montaje – descarga Kits de Montaje.
| Document title | Document type | Document Date | Download |
| --- | --- | --- | --- |
| | Specification guide | 01/07/2015 | 1.8 MB |
|                             Attachment kits for positioners | Technical leaflet | 05/2016 | 31.7 MB |
| | Instruction sheet | | |